Meet the Artists
We are Sarah Malekyar and Daniel Prock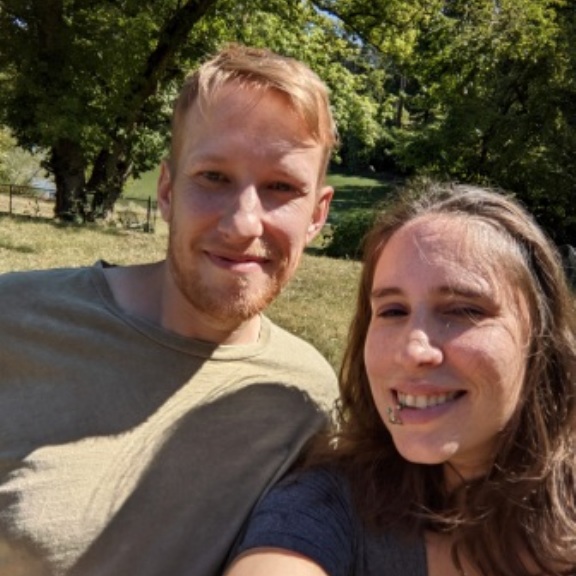 a dynamic duo of self-taught freelance artists. Our unique style is characterized by vibrant colors and fun designs, which we achieve by working with a variety of mediums, including epoxy resin, bead working, and wire wrapping. Epoxy resin is a versatile synthetic material that we use to create a variety of effects in our art. From encasing objects to creating layers and adding vivid colors, epoxy resin allows us to bring our imagination to life. The finished product is smooth and glossy, giving our artwork a polished and professional look. In addition to epoxy resin, we also incorporate bead working and wire wrapping. Bead working involves using beads to create intricate patterns, while wire wrapping involves using wire to create delicate and detailed shapes. By combining these techniques with epoxy resin, we are able to create unique and eye-catching pieces. We are passionate about our work and are always looking for new and innovative ways to create art. We are always happy to work with clients to create custom pieces of art that reflect their unique style. If you are looking for a beautiful and unique piece of art, we encourage you to contact us. We would be happy to discuss your needs and create a piece of art that you will love.
You can find our handmade artwork on Poshmark, where we offer a range of one-of-a-kind pieces. Whether you're looking for a statement piece for your home or a unique accessory to add to your wardrobe, we have something for everyone. Thank you for supporting our passion for art!
learn about making costum vinyl decals
making silicone molds to create functional art
Wire Wrapping!
Wire wrapping is a popular technique used to create beautiful and unique pieces of jewelry. In this article, we'll explore how to wire wrap with beads, natural stones, synthetic materials, and embellishments.
Art is everywhere in KC
This article explores the vibrant art scene in Kansas City, Missouri, and highlights some of the best museums, galleries, public art installations, and events in the area.