Meet the Artists
Hello! Zap and Zam is Sarah Malekyar and Danny Prock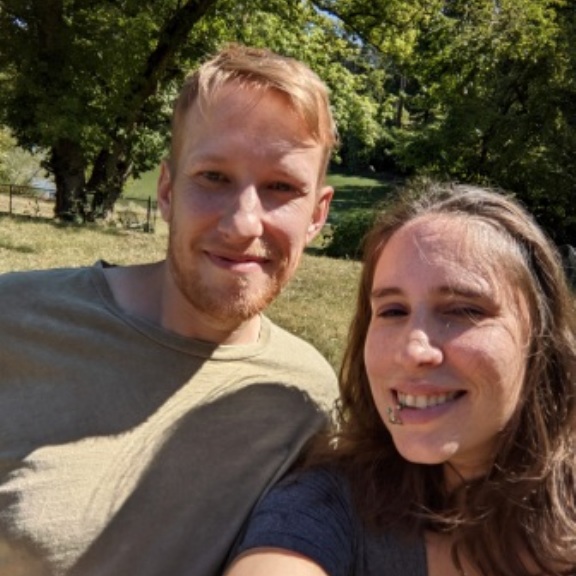 We are a freelance self-taught artist couple. We enjoy creating our pieces by merging our styles together. Our style is characterized by vibrant colors and fun designs. While Danny is more of a technical artist and enjoys focusing on details, Sarah is the colorful explorer and photographer. We love to create our art using a range of mediums, like epoxy resin, wire wrapped jewelry, graphic design and watercolor paintings. Epoxy resin is a versatile synthetic material that we use in a variety of ways. We add it to metal bezels to create one of a kind jewelry, such as pendant necklaces or earrings. We add vibrant colorful mica pigments and alcohol inks to the epoxy resin to create stunning designs and unique color combinations. Our finished products are smooth and glossy with a glass-like appearance, but the items are extremely durable. In Addition to epoxy resin, we incorporate crystal gemstones, bead working and wire wrapping. Bead working includes using different gemstone beads to create intricate and appealing designs. Wire wrapping involves using different kinds of jewelry wire to create delicate and detailed shapes, like spirals, snowflakes, hearts and crescent moons and more. By combining our unique epoxy resin, wire wrapping, and bead working skills, we create one of a kind and eye-catching pieces.
learn about making costum vinyl decals
making silicone molds to create functional art
Resin Art!
Epoxy resin art is a versatile and exciting new art form that allows artists to create stunning and unique works with a variety of effects.
Art in KC
This article explores the vibrant art scene in Kansas City, Missouri, and highlights some of the best museums, galleries, public art installations, and events in the area.